We are regularly asked what is the correct, fair and compliant rate to reimburse employees for business miles (see article).
The IRS standard mileage rate for business is based on an annual study of the fixed and variable costs of operating an automobile, including depreciation, insurance, repairs, tires, maintenance, gas and oil.
Though the answer can fundamentally be based on the type of vehicle and region of the country; there is one additional very important criteria- wage rate.
If you are reimbursing employees who are near the minimum wage rate, it is important to ensure that the mileage reimbursement rate paid is not going to cause labor law issues.
There have been several court cases that have determined that the difference between the actual reimbursed mileage rate and the IRS standard mileage rate for business may cause the employees' wages to fall below minimum wage; thus creating labor law issues.
Below is a simple chart to help understand these relationships.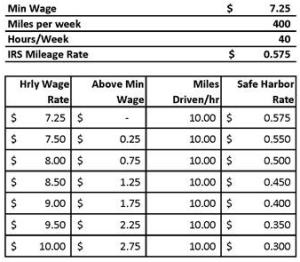 How can we help? With SureMileage you can maintain higher rates knowing that we are managing the miles paid, our clients are able to save 25% on average by ensuring they only pay for the miles driven.
Please visit our web site to learn more about how we can help your organization.