Since 2003 the IRS mileage rate has gone from 36 cents per mile to 57.5 cents per mile; that is a 60% increase!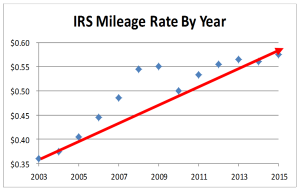 How does the IRS come up with the reimbursement rate? Well, it's a combination of many factors and fuel is only 30% of the total cost.
When reimbursing an employee for mileage consider this, the employee is using their personal car so it is not just the cost of gasoline; in fact depreciation is the biggest component. If an employee drives their car for work at the end of 3 years they may have a car with an additional 30 to 40 thousand miles. Consider how much lower the resale.
We took the estimated gas mileage and maintenance costs of 3 different vehicles; Economy (Chevy Aveo), Full Size (Chevy Malibu) and SUV (Chevy Traverse).
Below is our internal analysis of what it really costs to drive a car.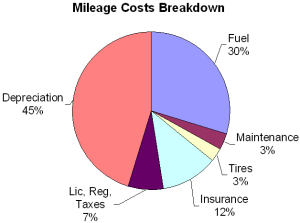 Details for each expense and vehicle